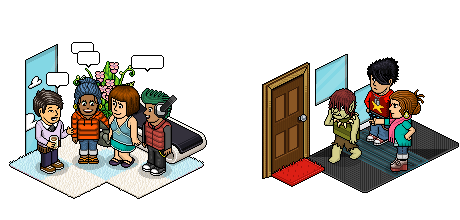 RULES & GUIDELINES
VI Members
Multiple Accounts/DoubleJobbing - You may only have ONE Habbo account working at VI and ONE account on the website associated with your Habbo account. This includes using a seperate account at a different agency while you work in VI. If an additional account is made, it will be banned and your previous account may be subject to rank deductions.
ALTs in Base - If you're filling thrones on your main account, you cannot have an ALT (alternative/second account) talking in base as it's against the AFK Thrones guidelines. You must be wearing the ALT badge if you're in base.
Bans, Account Deletions and Evasion - If you are fired/banned from VI, you must NOT make a second account to evade your removal. You MAY appeal your ban/firing by speaking to a VI Owner/DoL (DoL only if appropriate; ex. being banned from corruption, abuse of rights). 
Reporting a User - If you wish to report a member of VI, please do so in the Law & Complaints (Agent + Access) forums (located in Virtual Intelligence Discussion) or private message a senior member of DoL. Please follow the protocol found in the forum. Remember to post all the evidence you have collected.
Mottos and Badges - While inside VI base, it is necessary to wear your correct motto and badge associated with your rank. Your motto should appear as your VI Rank or VI rank points.  While in VI, you must wear the highest-ranking VI badge you have. You may customise your motto by adding additional things at the end (eg. VI Mod #TylerRocks). However, if you are in a Special Unit or you have received Pay Badge from DOD, you can wear those in base instead. *Note: Owning the SG badge does NOT excuse you from this rule. If you have VI badges, they must be worn in base at all times.*
Transferring Out/Leaving Badges - Transferring in and out of VI will result in deductions. The third departure is a 5% RP deduction, fourth departure is 10%, fifth departure is 15%, sixth departure is 20%. and seventh departure is a final deduction back to Agent.
Scamming/Cheating - Any form of scamming will NOT be tolerated in VI and may result in immediate removal. Attempting to cheat during VI related giveaways and events will result in serious consequences (ex. DOR giveaways or DOE games).
Advertising- Do not promote/advertise/poach members outside VI's Base/HQ.
Special Guests (SG) 
→ Special Guests are required to adhere to all the rules and guidelines stated on VI website whilst inside of base. Failure to do so may result in the removal of the [VI] Special Guest Badge.
→ SG badge holders may also be invited to the VI Discord server and may be given the Special Guest Role.
→ While in VI base or Discord, please do not attempt to advertise any other Habbo organization whether it be another agency, military, or fan site.
→ Special Guests are allowed to freely roam in base but cannot fill ANY stations or call any commands to VI members.

Social Conduct
Swearing - It is acceptable to swear in VI to express emotion, but you may NOT use swears to insult a user. Please do not use swears excessively.
Bullying/Harassment - Under no circumstances is it acceptable to bully another user at VI. Bullying is defined as the intentional act of belittling/causing upset to another user.
Insulting Others/Flaming - Under no circumstances is a user allowed to insult another user intentionally or by the product of negligence.
Forums
Following Guidelines - Each forum on VI is unique and is subject to a different set of rules (along with the ones posted above). All users must follow the rules of the forums as specified. Failure to do so may result in disciplinary action including, but not limited to, suspension and rank deductions.
Spam and Threatening Links - It is not acceptable to spam the forums nor is it acceptable to post links to websites that may be associated with hacking websites, pornography or other threatening websites. Habbo Hotel is a game for users who are 13+, please take this into account when sharing links.
Specific Website Features - The Virtual Intelligence website has many unique features. Please DO NOT take advantage of these features. If you are found to be abusing a feature, you may have your access revoked or receive a rank deduction (ex. spamming the likes feature or creating offensive account names).
Illegal Activity - If a user is found promoting something against the law or teaching others how to break the law, moderation will occur on the user. The law must be taken very seriously. If a user is found to be breaking the law, they will be banned from all VI platforms (VI base, VI Discord server, and habbovi.com).
Advertising - It is not acceptable to advertise another website's products and services with the intention of gain. You may post links to websites to assist other users (ex. a user wants to know where to buy a certain product, so you link them to an eBay ad with said product).
Habbo 
Blocking/AFKing at Stations - You may not use your Habbo to block or AFK at a workstation. 
Spam Trading/Whispering - Trading and cancelling a trade to a user excessively is not allowed in VI as it is annoying and may cause lag to some users. Spam whispering is also not allowed for the same reason.
Spamming the Room - Please do not spam the room either with a constant message or random letters. Saying something to stop yourself from AFKing is not considered spam (ex. pressing the spacebar then enter).
Advertising - It is not acceptable to advertise other agencies/services in VI rooms. This may result in a ban/mute.
English at Workstations - When filling stations, you must only speak English. When in lobby or base, you can speak any language you wish. Please remember that if you are repeatedly leaving your seat in an attempt to avoid this rule, you may be removed from the seat with consequences to follow. This is considered "trolling".
Welcome Messages - When filling a station, you must send these welcome messages (or create your own!) instead of hitting spacebar+enter. Copy and paste them into your chat bar and hit enter/send.
[|] Join [VI] Today! Friendly community and we pay 5-50c daily with NO pay bans. [|]
[|] Transfers are OPEN. Please sit at the transfer desk to the right to get started. [|]
[|] Welcome to [VI] ! Have a seat at one of the front desks to join ! [|]
Seat Saving - You may not save seats for yourself or another user to gain additional rewards faster. This includes using an alternate account or having a friend do it for you. It is also unacceptable to ask for seats.
Seat Stealing - If a user is kicked from their seat, disconnects from Habbo or gives it up, it's a free seat that may be taken. However, if a user accidentally clicks away from a seat (commonly called "noob clicking" or "NC") then they are still the owner of that seat and the seat MUST be returned to them. If you are leaving and returning to your seat multiple times and someone takes it, you cannot have it back. If a member has to leave their seat to let someone in through Security, the seat they were originally sat in is still theirs.
Auto Typers/Clickers - Do not use an auto typing or auto-clicking program in VI under any circumstances. This includes using said program to stop yourself from idling, to train recruits or to transfer users. If you are caught doing this, 5% of your Pay Points will be deducted. If you do not have pay points, a larger deduction will be made to your Rank Points. *Punishment subject to change depending on the amount of pay points a user has.*
Idling/Counting Down: If AFKing or idling 3 times within a 240 minute period, the member will be deducted 3,000 - 10,000 rank points if they are security or above or 5% rank points if they are above 150,000 rank points (subject to change depending on previous offenses). If a member is idling at a station, you can count them down by starting with their full Habbo Username (: x then click on them will make this easier), then counting down from five to one. You will then take a screenshot with the time & date on your pc (mobile users can manually type out time and date with their timezone next to it) and the user's profile that appears in the bottom right. If a user is teleported during a count down, you have to count them down at the tele instead. All FULL count downs are to be posted in #support in our Discord server. ALL VI Members are allowed to join, no matter what rank they are. If you are interested, please contact an ADM+ to be added. *Please note: if you are kicked from a seat with the glow ball for idling, the seat is no longer yours!*
Disconnecting: If you disconnect from AFK Thrones, your rewards cannot be added. However, if you've waited the full cycle and disconnected at the teleport, your points may be added if you have a proper screenshot that includes Habbo profile in the bottom right of your screen, time and date on your PC, and your character shown at the teleport.
 Nine Minute Rule
The "9 minute rule" is to ensure all members are being promoted and paid fairly based on their activity and not abuse the time zones where VI is at its least peak. This rule was also invented to prevent "glow ball hunting" or encourage members to fight over seats. This rule means members will only be able to collect one reward every 9 minutes or every 3rd seat after your last reward. This does not include members who have just recently come online from AFK and members who have not claimed a reward yet. It only applies to members who have been active in our community and have been frequently collecting glow balls.
One Minute Rule
"If" the timer is under 01:00 and the seat with the glowball is empty, no one will be able to claim the seat with the reward. If you disconnect from the seat when the timer is below 01:00, you may come back and claim it but if you disconnect above 1 minute, it's anyone's to take. The seat is no longer yours "if" you intentionally leave the seat, or get caught idling and kicked from the station. Purposely moving on and off the seat or moving around is not considered as a misclick and you can lose your reward/glowball.
Habbo Way/Habbo Fansite Policy
Virtual Intelligence follows both the Habbo Way and Habbo Fansite way which can be found in the following links:
https://help.habbo.com/entries/22405102-Habbo-Fansite-Policy