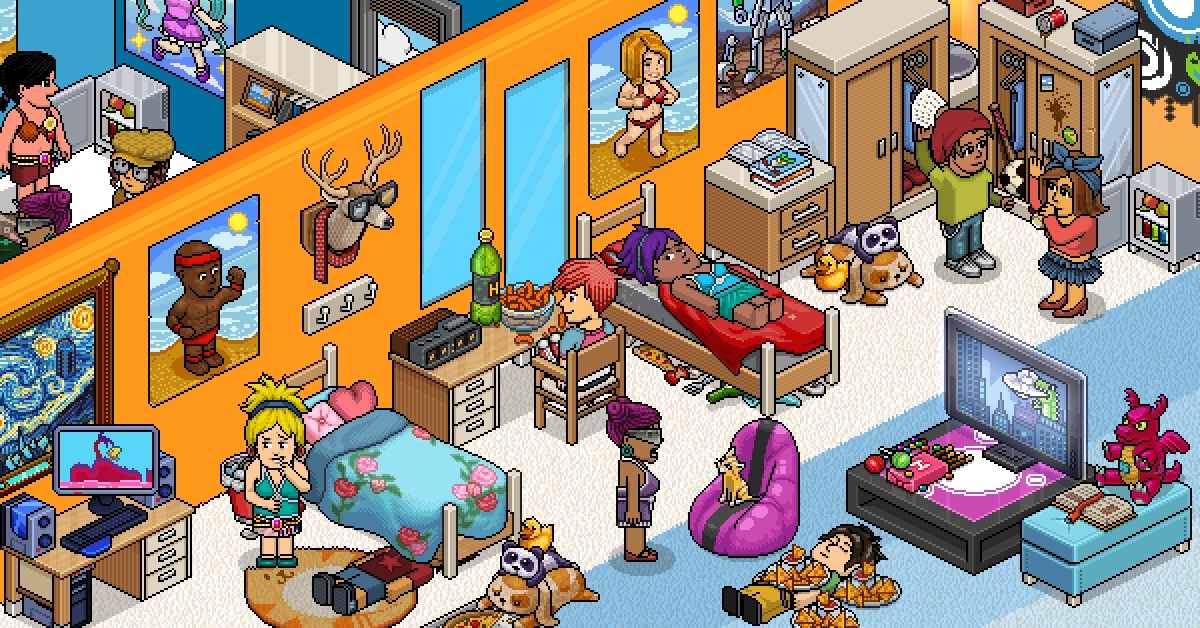 νιятυαℓ ιитєℓℓιgєи¢є
RECRUIT GUIDE
Welcome to Virtual Intelligence, one of the most systematic agencies on Habbo.
We do things differently compared to most agencies on Habbo. The best part is we allow coloured chat bubbles, dancing, role-playing & no uniforms!
This guide will enable you to have all the knowledge required for you to pass a quick quiz later. You will need at least an 80% to pass.
Whenever you work at Virtual Intelligence (VI), you will get rewards for each glow ball you get. Every reward becomes 250 rank points and 250 pay points when uploaded to this website. Rank points determine your rank, and pay points determine your pay. You can click "My Account" to view your rank points and pay points.  
*Note: If you're on mobile, you may disconnect during the training process; don't worry!
Our Trainers will be waiting patiently for your return.*
How do I earn rewards?  
You earn rewards by working in our headquarters. There are glow balls that move around (look for them in the headquarters). If you are on the right side of a glowball (for FTF seats, you must be directly next to the glow ball) when the timer reaches zero, you will get instructions to claim one reward.
What do I get from each reward?  
Every glowball rewards you with 250 rank points and 250 pay points when uploaded to this website.
Rank points and pay points are updated to this website within a 48 hour period of reward rooms being cleared.
How do I claim my reward? 
When you are on the right side of a glowball (for FTF seats, you must be directly next to the glow ball)and the timer reaches zero, you will be teleported to the elevator. Entering the elevator will lead you to a hallway (Sector 1) with a number of other elevators, each one leading to a different reward room. Look for a reward room that has less than 15 names on the scoreboard then click on the gate. During this process, you will be counted down from 00:30 seconds after which your name will appear on the scoreboard thus logging 1 reward. Please make sure you note which reward room you've claimed your reward in, and only use that reward room so that all your rewards will be logged on the same scoreboard.
*Important For Mobile Users: The scoreboards do NOT appear on the Habbo Mobile app. If you'd like to check anything regarding your rewards on a scoreboard, please don't hesitate to ask another one of VI's members!*
When can I collect pay?
You can collect your pay at any time from any Owner of VI if you have accumulated 5,000 pay points on this website.
You will get 1 coin for every 1,000 pay points you earn. All ranks can earn rewards and get pay points.
When do I get promoted?
You are promoted with rank points on this website. You can change your motto, and request new badges (if needed) whenever you have reached enough rank points for your next rank. 
Check the ranks list (Utilities>Ranks List) on this website to see a list of all ranks and the corresponding rank points.
Rules and Information
→ There is no uniform! You may also use caps, colour chat, effects (excluding ghost & invisible effect), dance inside base, and roleplay!
→ Even with all this freedom, you are still obligated to be respectful at all times.
→ Never AFK (away from keyboard) at a workstation (only in the red thrones or on the chairs). 
→ You can get rewards if you AFK (away from keyboard) at the red thrones in the headquarters. Just leave your habbo on the red throne chair and when the glowball reaches you in the last seat, you will be able to claim 5 rewards instead of 1.
*Tip: Sit in AFK thrones overnight or when you're out for a long period of time to still gain rank points & pay points whilst you live your life outside of Habbo!*

Commands
FTF: Fill the Front — Recruit new members or let workers in at the front desks (the row of desks with the switch next to the chairs). Only let members who are below Security rank inside the base.
FTB: Fill the Back — Sit on a seat that's not a workstation. 
FTS: Fill the Security —Work in security (the area with the color tiles and switches).
FTT: Fill the Training — Work in the training room (the closed off area in base with the sofas).
ATT: Attention — Wave without standing up and say yes ma'am or sir to the higher rank who called you.
AE: At Ease — Resume your activities after being called to ATT.
Now that you've read the guide, all that's left is to pass the Recruit quiz! When you have passed the quiz, please let your trainer know and they will guide you through the next step.
 If you have questions, ask the help desk after you've completed your training.
Good luck!